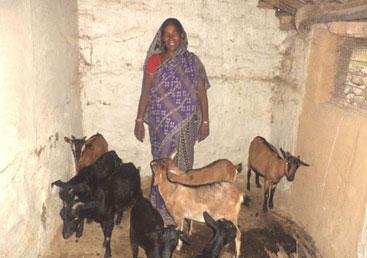 Profit of Goat Rearing- Case Study of Kuili Sahoo
Village: Talsara | GDC: Tumulia, Sundergarh
Kuili Sahoo is widow women and age of 55 years old. She is having only 1 acre of land and lives with her one son at Talsara village, Talsara GP, Balisankara Block, in Sunargarh District and coming under Tumulia GDC centre. As she was unemployed and there was no income gereration livelhood activity, for which she could not able to provide tution fees of her son as result her son could not bring good result in study. Therefore her son thought to migrate but if he go abroad then his mother will remain alone at home therefore his mother thought to take inittiative through which she earned money to build up a business for his son.
One day she listen from Mrs Sushila Dunget, field guide of Tamulia GDC about the services of kalyani project and took initiative of goat rearing with the 4 goats in 2011. Now she is a progressive goat keeper in the area and having 28 no. of goats out of which 11 castrated goat, 2 male kids, 6 female kids, 9 doe. According to her she is having more than Rs.200000 livestock asset and also sold many times during the requirement of money. Her doe have been provided more than 20 times black Bengal buck service from the project and gave birth healthy twins many times. Her goats have been castrated by supervisor and field guide as a result the growth of the castrated goat increased effectively. She found that weight of the goat has increased efficiently as she knows from the quarterly weight monitoring activity of the programme. Under the programme her goat have vaccinated and deworming regularly and she acknowledged that there was no mortality since inception of the project. She has planted sabulal backward of the house which is fed to goat particularly during the rainy season. She is very much interested to construct the bhadi house for which she is collecting material from nearby forest. Mrs. Kuili and others farmers have been aware on how they will realize actual price of the goat whereby now she has knowledge on market price of goat meat and can bargain on the basis of weight of the goat with middlemen (goat trader).
Yearly she realizes on in around Rs. 30000 from selling of goat and she used this money to build a KIRANA Shop for her son in Talsara village. Now she is having savings as well as can maintain the finacial requirement of the expanson son's business, agriculture activities, house repairment and relatives finacial assistance. She is very much happy and satisfied with the services of kalyani project, she told that if this programme run foreever than many others farmer will aslo get help from this project like me.