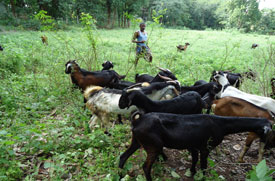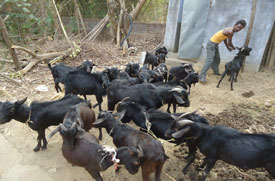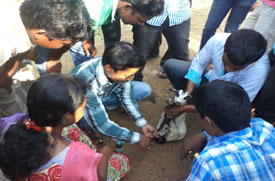 Comprehensive Goat Development Programme:
Goats are an integral part of rural economy. Goat rearing has been an important livelihood option for small and marginal farmers as well as landless families in India.In pastoral and agricultural subsistence societies in India, goats are kept as a source of additional income and as an insurance against disaster. Goat farming constitutes the means of livelihood for many household of Rural Odisha. For the economic upliftment of the farmers and to generate employment, goat farming is being promoted by BAIF-Odisha through ILDP Kalyani sponsored by Department of Fisheries & Animal Resources Development, Govt. of Odisha. Goat development centers are established & operated in five districts namely Bolangir, Deogarh, Keonjhar, Mayurbhanj and Sundergarh to improve genetic potential of local goats through breeding by elite breeding bucks of Black Bengal and Ganjam breeds.
Goat development programme operated in 25 Goat Development Centres by 250 field guide, 25 supervisor and a project manager.
The Services which are being provided by this programme are as follows:
Distribution of Breeding Buck
Kidding Monitoring
Kid Body Weight Monitoring
Kids remurational Vaccination & Deworming
Castration of Non-Descript Buck
Capacity Building of Goat Keepers
Selling of Goat by Weighing
Goat Rally