BAIF in Odisha
With a vision to improve the livelihoods of farmers in the State, Hon'ble Chief Minister Shri. Naveen Patnaik launched the "Kalyani" programme on 02 October 2010. BAIF implemented the "Kalyani" programme during 2010 - 2018 in 14 districts with the support of Govt. of Odisha. The programme was undertaken through a network of 100 Cattle Development Centres (CDCs) and 25 Goat Development Centres (GDCs). The components included cattle breeding, goat breeding, fodder development and fodder seed production. The major achievements of the programme included the following.
Dairy animal breeding services through 4.49 lacs Artificial Insemination services using frozen semen have been delivered to 1.73 lacs households in 1,920 villages resulting in the birth of 66,000 high genetic merit female progenies by project end.
Progenies born through the programme have recorded an average milk yield of 6-7 litres with total annual milk production estimated to be over 75 million litres valued at over ₹ 150 crores.
34,000 farmers, mostly women, from 25 GDCs have sustainable goatery-based livelihood with average annual earning of over ₹ 20,000 from the activity.
46,000 farmers have established fodder cultivation in over 4,500 ha of land
A well-developed 100 acre fodder seed farm has supplied 93 tons of high-quality fodder seeds and over 3 million cuttings of Hybrid Napier to farmers & other agencies.
Introduction of advanced breeding technology of Sorted Semen.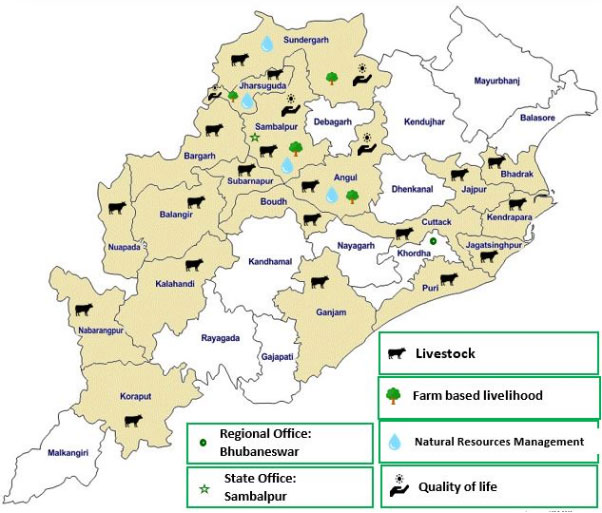 Based on the success of the "Kalyani" programme in transforming dairy farmers' livelihoods, the second phase "Integrated Livestock Development Programme" commenced in June 2018 in 16 districts. The programme has now been expanded to the coastal districts and has an overall annual outreach of more than 80,000 farmers. The programme provides scientific and quality door-step bovine breeding services for genetic improvement of dairy animals and enhanced milk production. The high milk yielding female calves born under the programme will also serve as an asset to the farmer in future. The programme is being implemented through a network of 285 CDCs in 3,460 villages covering 109 blocks in 16 districts of the State. About 2 lacs AIs are performed in a year which have resulted in the birth of over 35,000 improved female calves in the last 2 years
The Comprehensive Community Development Programme – Utthan supported by Mahanadi Coalfields Ltd. commenced the implementation phase during May 2019 and follows an approach of holistic community development focussing on enhanced and secured living standards through adoption of sustainable practices. The programme thus integrates the aspects of livelihood and quality of life across four clusters of 10 villages each in the districts of Sambalpur, Angul, Jharsuguda and Sundargarh. Various activities covering the themes of agriculture, livestock, water management, energy, health, nutrition, education etc. have been designed in the implementation plan. Initial efforts have been towards community mobilization, rapport building and awareness creation. Considering seasonal nature of many activities, implementation began with agriculture related engagements of Wadi (BAIF's agri-horti-forestry model of productive use of under-utilized land) and promoting package of practices for improving crop yields. Initial results have been encouraging which is leading to adoption and expansion. Appropriate and advanced technologies in livestock development and agriculture were introduced in subsequent months. Cross cutting components of health and hygiene were also disseminated in the cluster. With extensive mobilization and community participation, the programme has been able to reach out to more than 3,000 households in the first year. The State programme is expanding its horizon with diversification into newer thematic areas and forging new partnerships for sustainable rural development.