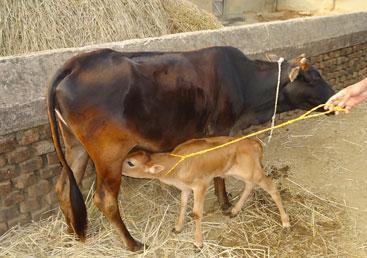 Change of life and livelihood- Case study of Mahadev Nayak
Village: Gumrudola, Sonepur | CDC- S.Mahada
Mahadev Nayak, a 45 year old, father of three children, attended elementary school up to class five. All his children used to go to school and one of them has now left. Mahadev and his family reside in a small house in Gumrudola Village, in the Sonpur District of the state of Odisha. He is a beneficiary of the Kalyani Project (ILDP) of the Govt. of Odisha and OLRDS, which is being implemented by BAIF Development Research Foundation.
Mahadev's livelihood before the Kalyani project intervention:
Mahadev is a very poor farmer who cultivates paddy, maize, grain, vegetables in his 2 acre of land. His land yields were very low because they were neither irrigated nor fertilized. Mahadev's agricultural production met the food requirements of his household for only six to seven, with the family facing acute shortages of food over the rest months of the year. In addition to farming, Mahadev used to earn a small daily wage from laboring, or collecting firewood, Daily wages in Gumrudola Village were only Indian rupees 70 per day and that was only available to him seasonally. In the off-season, he sold firewood Rs. 35 per bundle. Mahadev also kept some indigenous animal stock: usually 2 cows and 5–7 chickens.
What BAIF worked to do under KALYANI Project with Mahadev and other farmer?
In in early 2011 BAIF started to work with a Cattle Development Centre in S.Mahada which covers Mahadev's Village, when CDC incharge visited the village and talked to some of the farmer about cattle breeding programee andits scope for improvement. Mahadev, like many others, took an active part in inseminating their ND cows. The CDC incharge reached to his door step for AI and then follow up till delivery. As a result a cross breed healthy female calf born from a ND cow. For this Mahadev had spent only twenty rupees for AI charge, that is affordable to him. Then Mahadev took loan from Local money lender and purchased two more Jersey cows and continuing expansion of his farm. To take care of the fodder needs of the cows, a fodder plot of Hybrid Napier grass has been developed in his land and also Azola bed has been installed for availing green fodder. Now he has 2 bullock and 7 cows out of which three cows and two bullock are the BAIF's progeny.
Impacts of the project on Mahadev's life:
Whereas Mahadev used to work for a daily wage quite frequently, now he does not work for others. The period during which his household experiences a food shortage has shrunk. He is now living a much more comfortable life than ever before. He has bought a new cell phone and pays the school fees of his school going children regularly. He recently build a new house for his family. He has purchased 1 acre of land for agriculture. And his new awareness of the need to maintain clean and hygienic cowkeeping practices not only motivated him to keep his cow clean but also to improve the milk production, personal health and hygiene of his family. It's only been possible through the intervention of Kalyani project. Now he yields 35-40 litre of milk daily and leading a sustainable life. Also he had cleared all his loan which was taken for purchasing of cows. Now he is planning to increase the number of cows in the near future and also he is planning to make a new cattle shed in his backyard of his house.